News
September 2017
Travis is celebrating the digital release of Rise – an album that brings together some of the rock/pop musician's most conscious songs.
Rise: The Conscious Collection showcases 13 tracks from his four releases over the past 10 years – Trips Between Worlds, Signals, It's Just You and Your Little Trick.
A number of older tracks on Rise have been digitally remastered and come together with newer material but all were handpicked for their focus on consciousness.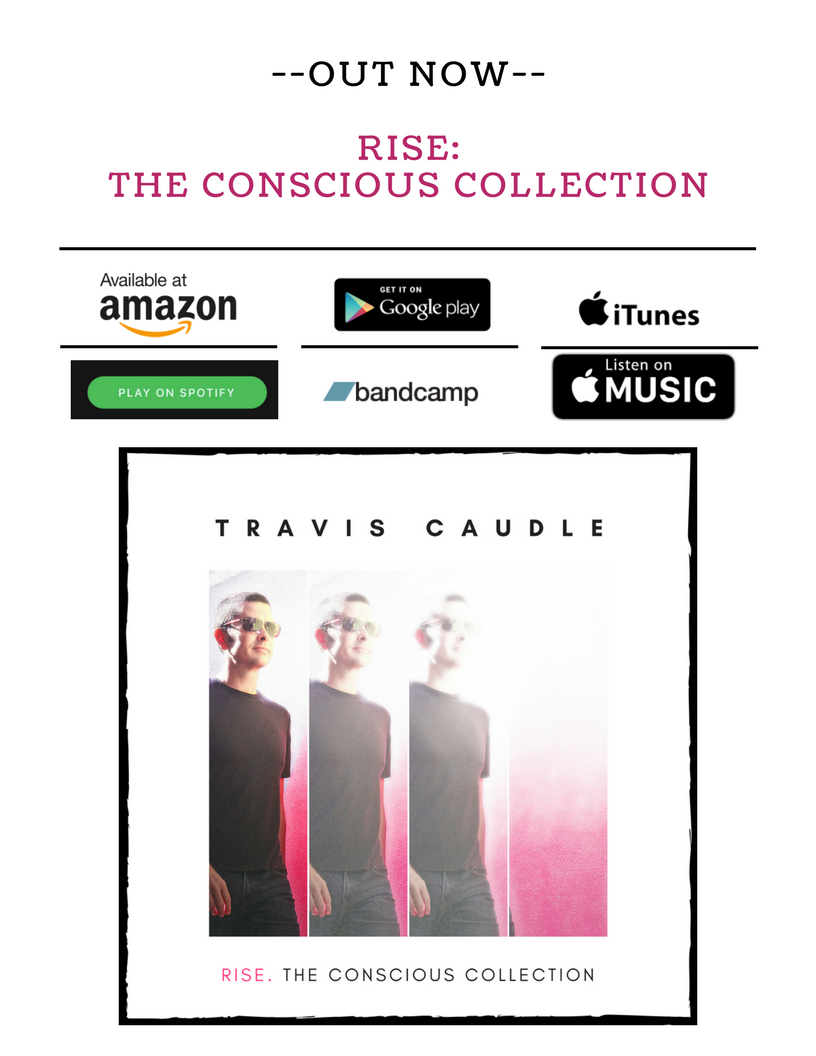 December 2016
Well, I'm back in the studio doing up some demos with the hope of recording again very soon
After welcoming a new little girl to our family in February, I have plenty of songwriting inspiration!
I've also sent a song to a great Australian songwriter for him to consider for his next album and he likes it so we'll wait to hear more on that soon 🙂
June 5, 2015
Thanks to ABC Radio in Perth, Western Australia for this review and David Weber in particular.
http://blogs.abc.net.au/wa/2015/06/the-week-in-music-with-david-p-weber.html
Travis Caudle's tight six song EP Your Little Trick is easy to like, it's full of driving rock with a country tinge; only to be expected from a recording with top notch Nashville musos.
With the collective that's on board, quality is virtually guaranteed, and certainly delivered.
The WA boy's playing with people who've played with some of the biggest names in the business; Dolly Parton, Lionel Richie, Kenny Rogers, and Stevie Nicks to name just four.
That's range.
The production team has work with Quincy Jones, Fall Out Boy, Jewel and Yothu Yindi, among a range of others under its belt.
That's a whole lotta range!
'Outta My Head' starts off like an REM outtake, before Caudle's distinctive vocal pulls matters together through a Mellencamp growl and a strong sense of melody.
'Something's Gotta Happen' courses on a keen, lyrical guitar line and a euphoric chorus; matters slow down for the reflective 'Wide Open' on which Caudle shows off his pipes.
'Back To You' has the kind of rootsy rock sound that Foo Fighters have tended towards in recent times, with exciting instrumental colours, and 'Heart & Soul' is as clear-eyed and direct as the title suggests.
The production on the latter track is notable for its sensitivity.
The closer 'Never Quite Enough' has some Cure-ish guitar and wonderful piano, and allows room for more excellent singing.
The overall vibe is something like The Replacements, if they were more together, or Ryan Adams, if he were still the kind of guy who wanted to churn out hits, or even songs which might get played on the radio.
This should be– album please, Mr Caudle!
May 27, 2015
Thanks to Brittany at The Spotlight for this 5-star review of my new EP Your Little Trick.
http://www.thespotlightonline.com/2015/05/ep-review-your-little-trick-travis-caudle.html
May 22 2015
Physical copies of my new 6-song EP, Your Little Trick, have arrived!
You can order yours here for $15 including postage.
The EP will hit iTunes on Wednesday May 27, 2015.
If you want to hear it in full, you can do that here.
March 30 2015
Back To You – the second single off my forthcoming EP – is out on iTunes now.
Get it here
https://itunes.apple.com/au/album/back-to-you-single/id975818348
Recorded with producer Mark Moffatt and some of Nashville's top sessions players (Greg Morrow, Michael Rhodes, Mike Rojas, James Mitchell) last year, it's a song I wrote in Nashville in 2013 while living there thanks to a grant from the Australian Federal Government.
You can get a FREE download of the final track here:

And you can watch a live acoustic version here:
January 2015
My new single Outta My Head, recorded in the US with Grammy-nominated producer Mark Moffatt (Neil Finn, Keith Urban, The Saints, Yothu Yindi etc) is now on iTunes!
You can get it here
You can also get a FREE download of the song here:
https://soundcloud.com/travis-caudle/outta-my-head-radio-edit
November 2014
The weather's warming up here in my hometown of Perth, Western Australia and that means I'm busy playing lots of shows.
There are plenty of opportunities to come down and hear me play so hopefully, if you're in town, I may see you soon.
Other than that, we're planning the release of the first single off my new EP pretty soon.
The song will be 'Outta My Head' – a rock song about the mad pursuit of external success.
August 23 2014
After adding my songs Hear You Say and It's Just You to their Indie Underground Channel, GFM.FM has also given the tracks a little review.
Here's the link: http://www.gfm.fm/story/INDIElicious-Travis-Caudle
August 14 2014
Hey Everyone
Well, I've just finished recording another EP in the US — again with producer Mark Moffatt (Neil & Tim Finn, Mondo Rock, Keith Urban, Divinyls, Yothu Yindi) and we were thrilled to team up once more with some of the world's top session players – Greg Morrow on drums, Michael Rhodes on bass, James Mitchell on guitar and Mike Rojas on keys.
These 6 songs follow on from last year's EP It's Just You.
I've got just a few more shows on this US tour to go before I head back to Australia for spring/summer so please check my Tour page for dates.
Cheers,
Travis
xxx
March 2014
Hey Everyone
Hope you are all really great.
I'm really excited to be back in the US and will be on the ground here for 6 months.
This Saturday March 22 I kick off the touring in Fishkill, NY then head to Cleveland, OH before settling in Nashville for a while. I'll do a trip to Houston and Indiana a bit later on and hope to record again in Nashville so stay tuned.
In the meantime, I'll have my latest EP It's Just You with me at all shows.
SHOW DETAILS:
Saturday March 22 @ 8.30pm
Piano Piano Wine Bar
1064 Main St
Fishkill NY 12524
http://www.pianopianowinebar.com
Saturday March 29 @ 7pm – with special guests Chris Allen & Tom Prebish
GAR Hall
6138 Riverview Rd Suite F
Peninsula OH 44264-9651
Tickets: http://www.peninsulahistory.org/store/
Tuesday April 22 @ 8pm
The Basement
1604 8th Ave S
Nashville TN 37203
http://thebasementnashville.do615.com
Look forward to seeing you all at a show soon and thanks for the support of the new EP – it's been great as always 🙂
Cheers,
Travis
December 2013
My new 6-song EP It's Just You, recorded in the US with Grammy-nominated Australian producer Mark Moffatt, is now officially released.
You can grab it on iTunes:
Or you can buy physical CD's on the shop at this very website: http://www.traviscaudle.com.au/shop
And you can listen to it for free here:
We should have the CDs by around December 18 and can post them straight away.
**WIN**
If you buy a physical copy from this website in December, you can go into the running to win a signed copy of a limited edition promotional CD created when my band The Woodenelves appeared on national TV in Australia a few years back and also a Signals t-shirt. We have 2 of these prize packs to give away.
ABOUT THE CD
The EP features the songs Hear You Say, It's Just You, To Get Through, Ohio (new electric version), Until The End and Little Things.
The physical EP includes not only the 6 songs but also full lyrics and liner notes in a booklet form and also can be viewed electronically in any computer on the CDZine part of the disc which also links to the new film clip to "It's Just You", my social media sites and a photo gallery as well as a bonus track, Silent Guide.
If you're an iTunes kinda person and still want the lyrics booklet, just email us at team@traviscaudle.com.au and we'll get you a copy.
Don't forget to check out the new film clip, if you haven't already, it's about tapping into your fun-loving inner child.
http://www.youtube.com/watch?v=nCLrr5RjTmg
It was recorded in the US with one of Australia's most successful producers, Mark Moffatt who has worked with acts including Tim Finn, Keith Urban, Ross Wilson, the Divinyls, Mondo Rock, and Yothu Yindi.
—————–
November 2013
One of the new rock/pop songs I recorded in Nashville earlier this year – Until The End – can now be heard on Soundcloud. It'll be up for sale on iTunes very soon. Stay tuned : )
—————–
September 2013

It's been a busy month for me as I road-tripped to Western Australia's Goldfields region and met a lot of great new people.
Now, as the month draws to an end, I'm excited to announce that I'll be supporting acclaimed Australian act The Black Sorrows on Friday October 4.
The show is at The Ravenswood Hotel in Pinjarra, Western Australia, one of my favourite summer gig spots.
You can snap up tickets from Ticketmaster:
http://www.ticketmaster.com.au/the-black-sorrows-featuring-joe-camilleri-ravenswood-western-australia-04-10-2013/event/13004B06A1464DBE?artistid=1152204&majorcatid=10001&minorcatid=1&tm_link=artist_msg-0_13004B06A1464DBE
Or they can be bought from the venue for $30 – (08) 9537 6054.
Friday October 4
7.30pm @ The Ravenswood Hotel (I'm on at 8pm sharp)
www.ravenswoodhotel.com.au
Lot 65 Lloyd Avenue (Off Pinjarra Road)
Ravenswood, WA 6208
Oh, and more news on my EP release next month!!
—————–
August 2013
Well, I had a few weeks off to recover from getting home (and a cold that saw me lose my singing voice) and I'm now well and truly back on home turf (in Perth, Western Australia) and ready to play!
I have some shows in and around Perth over late August/September and return to Western Australia's famous Margaret River wine region too.
Later in September, I head to the gold mining town of Kalgoorlie in outback Western Australia for Race Round – a horse racing extravaganza that draws people from all over the country.
While there are still no firm dates for releasing my EP, plans are underway to get a taster track out in September.
The EP will definitely feature a rock version of the song Hear You Say which you can view in acoustic form on Youtube.
—————–
May 2013
Three months in Nashville have gone fast and I'm just about to head out of Music City to finish up my first US tour for 2013.
Mid May will see me return to Cleveland, Ohio then head back to New York for late May and June.
Massachussetts and Pennsylvania are also on the tour agenda, as is New Jersey.
My time in Nashville has revolved around getting out and recording a new EP with one of Australia's most celebrated producers, Mark Moffatt, who has been based in Music City for more than a decade.
There's no release date for the EP as yet, but plans are underway. Stay tuned.
—————–
July 2012
I'm really excited to announce that I've just found our I've won a national grant that will allow me to spend three months living, networking and making music in Nashville from February next year.
The $15,000 Nashville Songwriter Residency grant was awarded by the Australia Council for the Arts – the Australian Government's arts funding and advisory body – and helps cover my travel, accommodation and living costs.
The residency is being facilitated by renowned Australian musician and producer Mark Moffatt who has been based in Nashville for more than 15 years and has worked with the likes of Keith Urban, Neil & Tim Finn, the Divinyls, Slim Dusty, Ross Wilson, Yothu Yindi, and Mondo Rock.
I'm also hoping to head into the studio as part of the residency.
I was lucky enough to get chosen as one of two recipients out of 89 musicians who applied for the grant from across Australia. Thanks heaps to the Australia Council!
——————-
The latest news from my camp is that I've just released a double album that also features four newly-recorded songs.
I flew to Sydney to record three new original songs – Silent Guide, Ohio and I Must Be On My Way – as well as my version of Leonard Cohen's much-covered Hallelujah.
The tracks form part of a double album that includes Trips Between Worlds – the record released by my former band The Woodenelves in 2006 – and Signals, my 2009 solo effort, both produced by ARIA-nominated producer Tim Powles, the drummer for The Church.
The new acoustic songs were recorded by David Skeet, formerly of The Venetians, at his Darlinghurst studio.
The new songs can be heard online at www.myspace.com/littledollstudios and bought from iTunes http://itunes.apple.com/au/album/acoustic-ep/id519922780
Physical copies of the double album which includes lyrics and liner notes for every song and film clip, can be purchased at his www.traviscaudle.com/shop/
———
Hi Everyone
I've joined the Pinterest phenomenon — if you care to check it out, just go here:



Cheers,
Travis
—————————-
Big news!
Following on from having a song of mine on US sci-fi drama Flash Forward, my track 'A Little Bit of Me' – the debut single from my former band The Woodenelves' album Trips Between Worlds – is set to appear in the hugely popular prime time teen drama Gossip Girl.
The song features in "Beauty and the Feast", episode two of season five of the show that airs on the CW Network on Monday October 3 in the US and Fox8 in Australia later in the year.
Other artists to have songs on Gossip Girl include Adele, Kesha, Eminem and Rihanna.
Other Australian music to feature on the show include tracks from Sia and Bertie Blackman.
Thanks heaps to Izzy from Undercover Tracks and Gossip Girl's music team for making this happen.
A Little Bit of Me